Welcome To
The Palomar Inn
Welcome to our boutique hotel in Pismo Beach, CA. Our hotel offers a unique and relaxing experience, perfect for a coastal getaway. If you're looking for a breathtaking coastal escape that won't break the bank, look no further than Pismo Beach. This Central Coast gem offers everything you could want in a vacation destination, from wide, sandy beaches and perfect waves for surfing to charming restaurants and wine country just a short drive away. And our hotel is the perfect home base to explore it all.
The Palomar Inn is a great place to stay if you're looking for a motel near Pismo Beach. Within just a five-minute drive away, you can enjoy all the sights and sounds this popular beach town offers. Plus, the Palomar Inn offers free WiFi in all its rooms, so you can stay connected on business or while on vacation. And if you need to do some laundry, the motel also provides guests with a coin-op laundromat and in-room irons. Guests at the Palomar Inn can enjoy our patio with BBQ facilities. The hotel has a 24-hour front desk and business center to make sure you get the attention you need.
Our hotel near Pismo Beach is ideally located for enjoying all that the area has to offer. From our hotel, you can easily access the beaches, golf courses, and vineyards that make this area so special for folks who travel down the world-famous Pacific Coast Highway. So, if you're looking for a hotel near Pismo Beach that offers the perfect mix of comfort, convenience, and affordability, look no further than The Palomar Inn.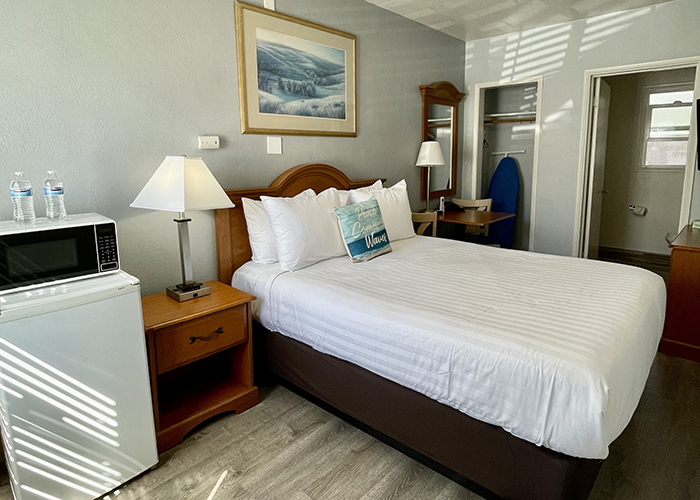 Relax In Our Spacious and Comfortable Guest Room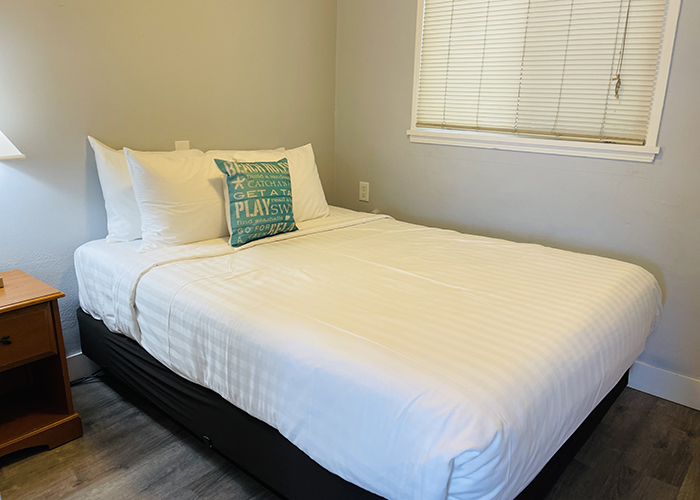 Enjoy the contemporary furnishings and modern amenities
luxurious Guestrooms
Whether it's for one night or many, you will rest easy at The Palomar Inn
Experience comfort and convenience at The Palomar Inn. All of our accommodations are equipped with a telephone, Free High-Speed Internet (WiFi), private bathrooms with complimentary toiletries, wake-up service/alarm clock, while our plush beds provide a night of restful sleep with a premium mattress and quality linens. Our pet-friendly hotel is the perfect place to enjoy a getaway with your furry friend. You can keep a snack in the refrigerator of your guest room and reheat it later in the microwave. For your enjoyment, there is cable TV. Too many wrinkled clothes? All of our rooms have irons and ironing boards for your convenience. For your enjoyment, we also offer a picnic area and barbecue facilities.
EXPLORE THE BEST OF Pismo Beach, CA
Get your money's worth on California's beautiful Central Coast
The Palomar Inn is located near beautiful Shell Beach, California. Explore the tranquil cliffs and idyllic beaches of Shell Beach whenever you stay with us. Pismo Beach and Avila Beach are both a short drive from The Palomar Inn. Restaurants and shops are within walking distance making our Pismo Beach hotel one of the most convenient places to stay in the area. Visit the amazing wildlife-filled Margo Dodd Park and you may wrap up your day by watching a beautiful picturesque California Sunset. While in town, check out of the many events at Robert A. Mott Athletics Center or Alex G. Spanos Stadium.
services and amenities
Guests visiting The Palomar Inn can take advantage of our various amenities and services to make sure that their stay and visit to Pismo Beach is stress-free.
WiFi

Parking

Non-Smoking
Hotel

Friendly Front
Desk

Great Location
REVIEWS
Cute, comfy, and an easy walk to food, coffee, and the ocean.
" The Palomar Inn is located in a residential neighborhood near the beach, which made me feel secure and made exploring Pismo Beach super convenient. The bathroom and guest room were clean and comfortable, a good value, close to everything, and within walking distance to the beach. Pismo was a lovely respite from traveling along the Pacific Coast Highway. Wish I could have stayed longer. I highly recommend The Palomar Inn if you are traveling down the PCH and want to stop in Pismo Beach."
- Janice
Short break to rejuvenate in a lovely spot at the perfect little hotel
" The beautiful location of the Palomar Inn, the conveniences of a table, chair, fridge & microwave, plus the proximity of cafes and restaurants nearby that offer takeout, all made it easy to socially distance, and have a nice little break during these trying times. Also, they're pet friendly, so I brought my little dog which really just made for wonderful staycations filled with walks along the beach. Our short breaks to this charming California beach town, with our walks around the neighborhood and along the bluffs of Oceanside really made my pandemic isolation more bearable. I appreciate the hard work and hospitality of the staff. I have been very happy staying at Palomar Inn this last year and a half and highly recommend it to any one who just wants to rejuvenate and enjoy the beach. "
- Joshua
Our Location
Address:

1601 Shell Beach Rd,
Pismo Beach, California - 93449, USA